Theater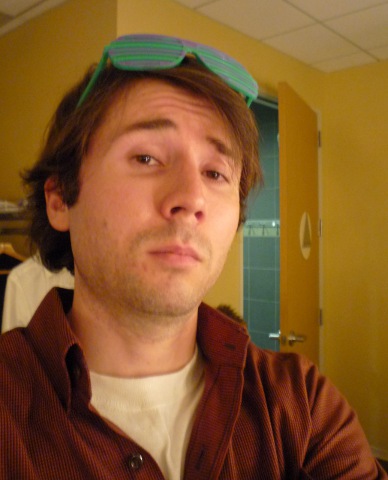 2011 The Wasps
Played Kid, Tea Party Supporter. March 3–5, 2011 at the Elliott Program Center. With Stanford Classics in Theater. Bio:
Higgledy piggledy
Denverite wannabe
Overcomes shyness
To be in a play

Unskilled in thespian
Matters his acting is
(Characteristically)
Pretty okay
Web site: http://scit.stanford.edu/2011_Wasps/. Local mirror.
2012 The Merchant of Venice
Played Salanio. January 26–28, 2012 at the Nice Try Theatre. With Stanford STAMP. Bio:
Mild-mannered student, wistful aesthete, tedious conversationalist, world's greatest lover. Just a sucker with no self-esteem.
Web site: http://stampmerchantofvenice.weebly.com/. Local mirror.
YouTube rip of trailer.
2012 The Secret to Raising Successful Children
Played Adam, Therapist, Man. May 3–5, 2012 at Okada Lounge, Flomo Lounge, Roble Theater. With Stanford Asian American Theater Project. Bio:
I dig insipid things. Living is zipping, it is spinning, mixing kind tidings with grim. Within implicit limits in which ifrits sting; in which mist is rising, inhibiting sight. First glimpsing bliss, finishing in sin. This wit is ill-fitting. I stir; mid listing ships I swim, finding in viscid filth vivid light.
Web site: http://successfulchildren.weebly.com/. Local mirror.
2012 Women On Top
Played Donald Trump, Ivana Trump. May 10–12, 2012 at the Elliott Program Center. With Stanford Classics in Theater. Bio:
This is David's second year with SCIT; once again he utterly failed to score with any classics chicks. His future plans include to begin smoking tobacco and later to die from it.
Web site: http://scit.stanford.edu/2012_WomenOnTop/. Local mirror.
Video remixes:
Oaths ("by the whore of Bunny Ranch," "by the balls of Reagan's sainted ghost," etc.).
Bad words (all profane and/or anatomical words).
2013 24-Hour Play Project
Co-producer with Jenny Barin and Catherine Zaw. February 16–17, 2013 at Roble Theater. With Stanford Asian American Theater Project. I was AATP's events manager from May 2012 to March 2013.
Two teams wrote, directed, and rehearsed new plays over 24 hours, with performances at the end.
Two Sides of the Same Coin by Money Back Guarantee

Jared Cavazos
Chi Ling Chan
Oliver Hamto

Last Quarter by Team Alpha

Sara Rodriguez
Nick Siekierski
April Yang
Mirror of AATP web site as it was when I left (ca. May 6, 2013).
2013 The Cyclops
YouTube video
Played Otis. May 23–25, 2013 at Toyon Hall. With Stanford Classics in Theater. Bio:
David hopes to one day win the Tony award for Being On Time for Rehearsal.
Otis and Us tumblr!
My photos and Hans's photos!
Otis and Us music recordings at the Internet Archive.
2014 Tango
Directed, played Edek. April 23, 2014 at Chevron Auditorium. With members of the Beginning and Advanced Polish classes (SLAVIC115A and SLAVIC115B) of Katarzyna Zacha. Part of Words in Action, a series of short performances in many foreign languages.
Osoby dramatu
Tommy Statkiewicz: Artur
Mark Kettler: Eugeniusz
Cecily Cai: Eleonora
Tom Lowish: Stomil
Alexander Walczak: Eugenia
Tanya Sanderson: Ala
David Fifield: Edek
This is a fragment (the end of Act II) of the Polish play Tango by Sławomir Mrożek. We had listened to a radio performance of the play and read parts of the text in class. We decided to perform it for Words in Action. The actors were the entirely of the Advanced Polish class and two members (Tommy and Tanya) of the Beginning Polish class. It was my first time directing.
2014 Casina
Vimeo video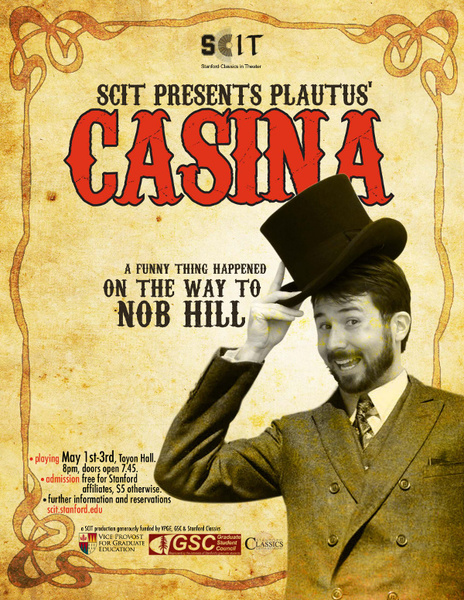 Casina, or, Forgiveness, or, The Stratagem Defeated, or, Butts.
Played Horatio Q. Birdbath playing Cleveland Stafford. May 1–3, 2014 at Toyon Hall and October 24, 2014 at Marines' Memorial Theatre for Humanities West. With Stanford Classics in Theater. Bio (as David):
I am large, I contain turpitudes.
Bio (as Horatio):
Horatio is the counterpart and complement to Benjamin Barrow (q.v.) in the titanic twosome Barrow & Birdbath. He left a promising career in the high-flying field of professional bird call imitation for the glitz and glamour of the stage. In private life he is a man of convictions (one for forgery, one for loitering).
Friday night photos by Thurston Dang:
Stanford News story: "Stanford Classics in Theater ventures into Roman comedy."
2015 The Nerds
Vimeo video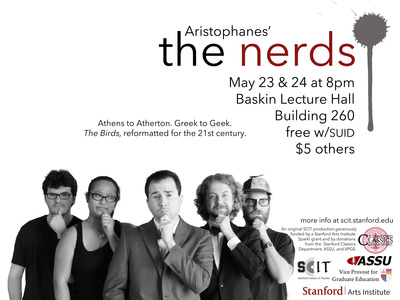 Played Pete Endeavour. May 23 and 24, 2015 at Pigott Hall and January 6, 2016 at the Hilton San Francisco Union Square Hotel for the 2016 SCS/AIA Annual Meeting. With Stanford Classics in Theater and the Committee on Ancient and Modern Performance. Bio:
In his dread Berkelian lair David whiles away the lonely hours. The dial in his freezer goes all the way up to 6, but he generally finds that a setting of 2 does him well enough. He may not be a classicist but he knows what a genitive case is, damn it.
Friday night photos by Thurston Dang and Sadia Afroz:
2016 The Post Office
October 8, 2016. Audio performance (in the style of a radio drama) of The Post Office by Rabindranath Tagore, using the 1914 English translation by Devabrata Mukherje.
Cast
Sadia Afroz

Amal

David Fifield

Royal Physician, Boy

Rebecca Sansom

Sudha, Doctor, Headman

Stephen Sansom

Dairyman, Gaffer, King's Herald, Boy

Scott Weiss

Madhav, Watchman, Boy
2017 The Caucasian Chalk Circle
December 3, 2017. Audio performance (in the style of a radio drama) of The Caucasian Chalk Circle by Bertolt Brecht, using the English translation by Eric Bentley. Directed by Primal Wijesekera.
Cast
Sadia Afroz

Shalva, Niko Mikadze, Grusha Vashadze, Doctor, Blackmailer, Ludovica, Illo Shuboladze, et al.

David Fifield

Singer, Georgi Abashwili, Natella, Arsen Kazbeki, Corporal, Aniko, Peasant Woman, Shauwa, Grand Duke, Limping Man, Innkeeper, Stableboy, Poor Old Peasant Woman, et al.

Primal Wijesekera

Mika Loladze, Simon Shashava, Old Peasant, Lavrenti Vashnadze, Jussup, Monk, Azdak, Invalid, Irakli, Sandro Oboladze, et al.
---