David Fifield's Eagle Project
---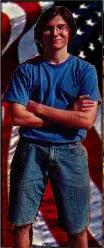 Well, the project is over. I'd like to thank everyone who contributed for their support. The rest of this page will remain unchanged, in the interest of historical preservation. If you'd like to make a donation, please take it directly to the library. Thank you.

What we have to learn to do we learn by doing.
-- Aristotle, Ethica Nicomachea II (c. 325 B.C.)
---
Thank you for taking the time to visit this web site. If you're here, chances are you've seen my flyer. In case you haven't, allow me to explain what I'm trying to do. For my Eagle Scout service project, I've decided to collect books for the benefit of the Aurora Public Library. I welcome books of all kinds, old and new, but my main goal is the collection of technical literature. If you've come here to make a donation (bless you!), perhaps you should see the donations page.
Table of Links
---
Perhaps you're bored with this site. In that case, get thee to the 171 Recon site right away.
If you have any problems with this site (spelling, æsthetics, etc.), don't hesistate to email me.
Everything on these pages is © David Fifield.